1942 Health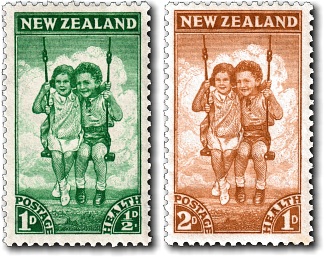 Cat.
Mint Unhinged
Mint Hinged
Fine Used
1d
Two Children on Swing - Green
72a
$1.45
$1.10
$1.60
2d
Two Children on Swing - Brown
72b
$1.45
$1.10
$1.60
Set of 2
72c
$2.75
$2.10
$3.05
First Day Cover - 1 October 1942
72d
$45.00
… Two Stamps : 1d (72a), 2d (72b)
1942 saw the first new health stamp design since the 1939 Health issue but there was still no sign of the triangular stamps proposed in 1939. Sales of these stamps were very much higher than those of previous years with some people now buying sheets of stamps as an investment.
Bibliography
The Postage Stamps of New Zealand Volume II
Edited by R. J. G. Collins FRPSNZ and C. W. Watts FRPSNZ
Published 1950 by The Royal Philatelic Society of New Zealand Incorporated
If you have any questions or comments please contact us - we'd love to hear from you.
Wishing you a Merry Christmas and a Happy and Prosperous New Year
This page was last updated on 06 Dec 2023
All content and images copyright © 2008 - 2023 StampsNZ