1957 Ross Dependency Pictorials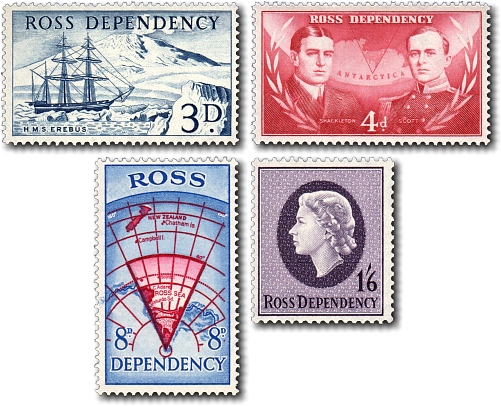 Cat.
Mint Unhinged
Mint Hinged
Fine Used
3d
HMS Erebus and Mount Erebus
101a
$2.70
$1.35
$1.80
4d
Explorers - Robert Scott and Ernest Shackleton
101b
$3.60
$1.35
$2.25
8d
Antarctic Region Map (Simplified)
101c
$5.40
$4.50
$6.30
(i) Carmine Red and Ultramarine Blue (Purple Tinge)
101c1
$5.85
$4.95
$7.20
(ii) Carmine Red and Cerulean Blue (Green Tinge)
101c2
$9.90
$6.30
$8.10
1/6
Queen Elizabeth II
101d
$9.90
$8.10
$4.50
Set of 4
101e
$20.50
$14.55
$14.10
First Day Cover - 11 January 1957
101f
$10.80
… Four Stamps : 3d (101a), 4d (101b), 8d (101c), 1/6 (101d)
These stamps were issued to be used in the special Post Office (actually a tent) established in Ross Dependency by Sir Edmund Hillary as part of the Commonwealth Trans-Antarctic Expedition. The stamps were intended to help support New Zealand's claim of sovereignty over the Dependency.

The stamps continued in use and were decimalised in the 1967 Ross Dependency Decimal Pictorials issue with the same designs.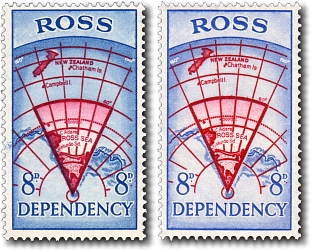 The 8 penny stamp is available in two varieties with differing shades of blue - in this illustration Cerulean blue (101c2) is on the left and Ultramarine blue (101c1) is on the right.
Bibliography
The Postage Stamps of New Zealand Volume V
By R. J. G Collins FRPSL FRPSNZ
Edited by A. R. Burge FRPSNZ and C. W. Watts FRPSNZ
Published 1967 by The Royal Philatelic Society of New Zealand Incorporated
If you have any questions or comments please contact us - we'd love to hear from you.
Wishing you a Merry Christmas and a Happy and Prosperous New Year
This page was last updated on 09 Dec 2023
All content and images copyright © 2008 - 2023 StampsNZ