1965 ANZAC - 50th Anniversary of Gallipoli Landing

Cat.
Mint Unhinged
Mint Hinged
Fine Used
4d
Anzac Cove - Brown
131a
$0.90
$0.70
$0.90
5d
Anzac Cove - Green with a Red Poppy
131b
$0.90
$0.70
$0.90
Set of 2 individual stamps
131c
$1.70
$1.35
$1.70
First Day Cover - Green and Red Design - 14 April 1965
131d
$3.60
… 4d (131a), 5d (131b)
First Day Cover - Blue and Red Design - 14 April 1965
131e
$3.60
… 4d (131a), 5d (131b)
The 1936 ANZAC stamps were the first New Zealand stamps to commemorate the Gallipoli campaign. In 1958 the New Zealand Returned Services Association suggested that the Post Office issue stamps to commemorate the fiftieth anniversary of the landing of Anzac troops on the Gallipoli peninsula in Turkey on the 25th of April 1915. Both stamps in this issue show Anzac Cove where the troops landed.

The plan had been to capture Constantinople (now Istanbul), however the landing troops had to fight their way up steep cliffs against heavy opposition which was waiting for them. Throughout the campaign, Anzac Cove was within a kilometre of the front-line and was well within the range of Turkish artillery.

Over two thousand New Zealand soldiers died during the campaign and close to five thousand were wounded. After several months the campaign was abandoned and the overnight evacuation of all remaining troops without a single fatality was the one bright note to the tragic campaign which quickly became a symbol of New Zealand and Australia's war losses.

Both New Zealand and Australia have a national holiday (Anzac day) on the 25th of April to remember those troops who died at Gallipoli and in active service since then. On Anzac Day in 1985, the name "Anzac Cove" was officially recognised by the Turkish government and the memorial there is a sombre reminder of the thousands of lost soldiers:

"Those heroes that shed their blood and lost their lives, you are now lying in the soil of a friendly country. Therefore rest in peace. There is no difference between the Johnnies and the Mehmets where they lie side by side here in this country of ours. You the mothers who sent their sons from far away countries, wipe away your tears. Your sons are now lying in our bosom and are in peace. Having lost their lives on this land they have become our sons as well."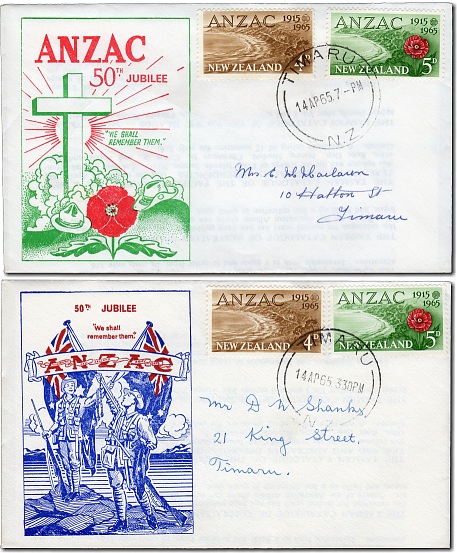 Two different ANZAC first day cover envelopes were issued featuring a green and red or blue and red design as shown.
Bibliography
The Postage Stamps of New Zealand Volume VI
Edited by D. E. G. Naish FRPSNZ and K. J. McNaught FRPSNZ FRPSL
Publsihed 1975 by The Royal Philatelic Society of New Zealand Incorporated
If you have any questions or comments please contact us - we'd love to hear from you.
This page was last updated on 04 Oct 2023
All content and images copyright © 2008 - 2023 StampsNZ