1994 A to B Self Adhesive Coil Stamp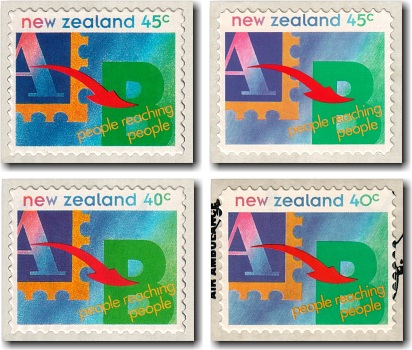 Cat.
Mint Unhinged
Fine Used
45c
A to B / Source to Destination (Self Adhesive) (Simplified)
386a
$0.90
$0.90
(i) Perf 11 (Leigh-Mardon) - No dot on 'i'
386a1
$0.90
$0.85
(ii) Perf 11¼ (Sprintpak) - Dotted 'i' (Issued August 1995)
386a2
$1.35
$1.35
40c
A to B / Source to Destination Postage Decrease (Self Adhesive) (Simplified)
386b
$2.70
$0.90
(i) Perf 11 (Leigh-Mardon) - No dot on 'i' (Issued October 1995)
386b1
$2.70
$0.90
(ii) Perf 11½ (Sprintpak) - Dotted 'i' (Issued November 1995)
386b2
$3.60
$1.70
Set of 2
386c
$3.40
$1.70
First Day Cover - 20 July 1994
386d
$4.25
… 45c (386a1)
First Day Cover - 2 October 1995
386e
$10.80
… 40c (386b1)
The 45 cent self-adhesive coil stamp design was introduced in July 1994. The letter A represents the sender and B represents the recipient of the mail. In June 1995 Leigh-Marden advised New Zealand Post that they were withdrawing from the stamp printing business and an order was placed with Sprintpak Pty Ltd to ensure supply continuity. The design was modified and reissued in October 1995 when the standard inland postage letter rate decreased to 40 cents.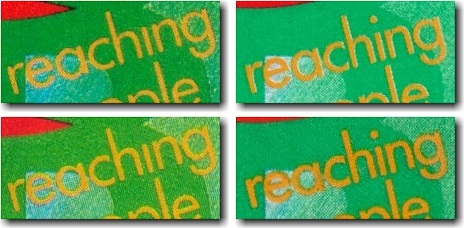 Most of the 45 cent coils were printed by Leigh-Mardon Pty Ltd and the majority of the 40 cent stamps, introduced after the reduction in standard letter rate, by Australia Post - Sprintpak. All four varieties are listed here - in all photos 386a1 is top left, 386a2 is top right, 386b1 is bottom left and 386b2 is bottom right. The stamps are most easily distinguished by checking for a dot above the 'i' in the slogan "people reaching people" - the dot is missing on the Leigh-Mardon printed stamps.





Also, the 'w' in "new zealand" is more magenta in the Sprintpak printings (it more closely matches the colour of the rest of the word 'new'). The Australia Post-Sprintpak stamps have blunt die-cut corners and are perf 11¼ for the 45 cent stamp and perf 11½ for the 40 cent stamp - rather than perf 11 for the Leigh-Mardon printings.
Bibliography
The Postage Stamps of New Zealand Volume VIII
Edited by B. G. Vincent FRPSNZ
Published 1998 by The Royal Philatelic Society of New Zealand Incorporated (ISSN 0-9597883-1-X)
If you have any questions or comments please contact us - we'd love to hear from you.
Wishing you a Merry Christmas and a Happy and Prosperous New Year
This page was last updated on 09 Dec 2023
All content and images copyright © 2008 - 2023 StampsNZ