1882 Queen Victoria Second Sideface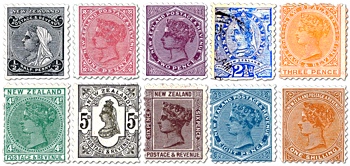 The specific reason for releasing this issue was to combine the payment of postage and 'revenue' - such as government fees and import duties into a single set of stamps. All previous issues had only been usable for postage. Apart from the 'Postage and Revenue' inscription, most of the second sideface stamps were modified designs from the 1874 issue stamps they replaced and are very similar.

Initially 1d, 2d, 3d, 4d, 6d, 8d and 1/- stamps were produced although the 6d stamp may not have been issued until 1884. The 8d stamp is mostly seen used on registered mail as postage to England via Brindisi was now slower and more expensive than the newer route via San Francisco.

In 1890 the 2½d and 5d values were added when the Universal Postage Union decided that the rate for foreign letters should be 2½d per half ounce. The designs were selected from competition entries.

The ½d stamp was issued in 1895 to replace the 1873 newspaper stamp. It is printed in black and appears to feature Queen Victoria in mourning, even though Prince Albert died many years earlier in 1861.

A great many of the low values of these stamps were produced and are available, and they continued to be printed and sold even after the 1898 Pictorials were issued due to shortages of the new stamps - the last printing of the ½d and 2d values was in 1900.

In 1893 the stamps were issued with advertisements on the gum side. This was unpopular with the public who feared the health effects of licking printing ink off of the gum side of the stamps and was discontinued after a year. The advertisements form a sort of time capsule for that year with slogans such as "Gold Miners use only Sunlight Soap" a personal favourite.
If you have any questions or comments please contact us - we'd love to hear from you.
This page was last updated on 20 Sep 2021
All content and images copyright © 2008 - 2021 StampsNZ