1935 Pictorials Official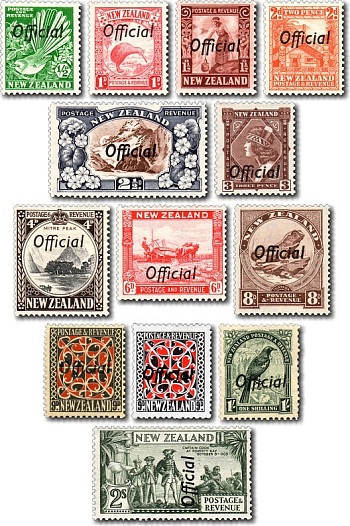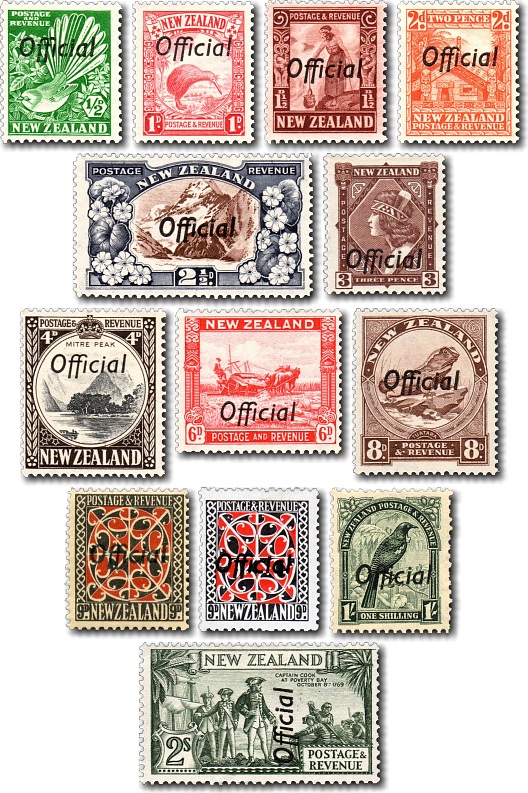 In 1905 the New Zealand Government decreed that postage stamps with the word 'Official' printed on them were to be used for all mail from government departments and agencies. The Official overprints of the 1935 Pictorials were first issued in March 1936 but are commonly included under 1935 for simplicity. All stamps from the 1935 Pictorials issue with the exception of the five penny and three shilling stamps were issued after having been overprinted by the Government Printer.

The halfpenny stamp features the Fantail (Piwakawaka) with native Clematis in the background. The fantail is a very sociable New Zealand native bird which darts around eating insects.

The penny stamp features the Kiwi - several species of flightless birds endemic to New Zealand. The kiwi is also a national symbol of New Zealand.

The 1½d stamp features a Maori woman cooking food by lowering it in a flax basket or kete into a boiling geothermal spring.

The twopence stamp features a traditional Maori Meeting House.

The 2½d stamp is two-tone with Mount Cook (Aorangi) in the centre bordered on both sides by the Mount Cook Buttercup (Ranunculus lyallii) - a species of buttercup endemic to the South Island of New Zealand at altitudes of 700 to 1,500 metres.

The threepence stamp features a Maori girl (Wahine) wearing an intricately woven flax head-band (pare). A Huia feather is in her hair - a mark of great prestige.

The four penny stamp features a view of Mitre Peak in Milford Sound.

The sixpence stamp features a horse drawn harvester or reaper, working through a crop of wheat.

The eight penny stamp features the native Tuatara - the only surviving member of the Sphenodontians which flourished around 200 million years ago. The name "tuatara" derives from the Maori language meaning "peaks on the back".

The 9d stamp features the ornamentation from a Maori sliding door panel. This stamp was printed using offset lithography rather than recess printed like the rest of the stamps in the issue. The stamp was issued in two forms. The initial green overprints on the red and grey 1938 printing measure 18 by 21½ mm. The 1941 black overprinting on the scarlet and black stamps had a slightly smaller design - 17½ by 20½ mm.

The shilling stamp features the Tui - a very intelligent bird much like parrots. They are able to clearly imitate human speech. The possession of two voiceboxes enable Tui to perform a myriad of vocalisations.

The two shilling stamp shows the landing of Captain Cook at Poverty Bay on the 8th of October 1769. The first encounter with local Maori led to the deaths of six Maori during skirmishes with the crew due to a misinterpretation of the traditional Maori challenge. Cook was unable to gain many of the provisions he and his crew needed at the bay, and for this reason gave it its name.
If you have any questions or comments please contact us - we'd love to hear from you.
This page was last updated on 20 Sep 2021
All content and images copyright © 2008 - 2021 StampsNZ