1970 Cardigan Bay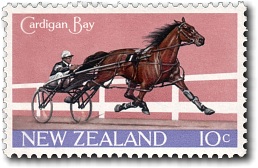 Cat.
Mint Unhinged
Fine Used
10c
Cardigan Bay Trotting
165a
$0.65
$0.65
First Day Cover - 28 January 1970
165b
$4.50
… 10c (165a)
Cardigan Bay is possibly the most well known racehorse ever to come from New Zealand. Bred in Southland and affectionately known as "Cardy", he was the first Standardbred Harness racing horse to win $US 1 million in prize money in North America, and the ninth horse to do so worldwide (the first eight were Thoroughbreds).

Cardigan Bay won 80 races in all. Much of his racing career was based in the United States where he teamed up with reinsman Stanley Dancer in his many appearances at Yonkers Raceway near New York. He was the only horse to have defeated the three Hall of Fame USA horses of that era - Overtrick, Bret Hanover and Meadow Skipper. In the United States he won Pacer of the Year in both 1965 and 1968. He became a bit of a celebrity there and even appeared on the Ed Sullivan show as the "million dollar horse".

After reaching the one million dollar target he was retired and brought back home to New Zealand, and this stamp was issued to commemorate his return.

Cardigan Bay was an inaugural inductee into the New Zealand Trotting Hall of Fame.
Bibliography
The Postage Stamps of New Zealand Volume VI
Edited by D. E. G. Naish FRPSNZ and K. J. McNaught FRPSNZ FRPSL
Publsihed 1975 by The Royal Philatelic Society of New Zealand Incorporated
If you have any questions or comments please contact us - we'd love to hear from you.
This page was last updated on 04 Oct 2023
All content and images copyright © 2008 - 2023 StampsNZ