1972 13th International Vintage Car Rally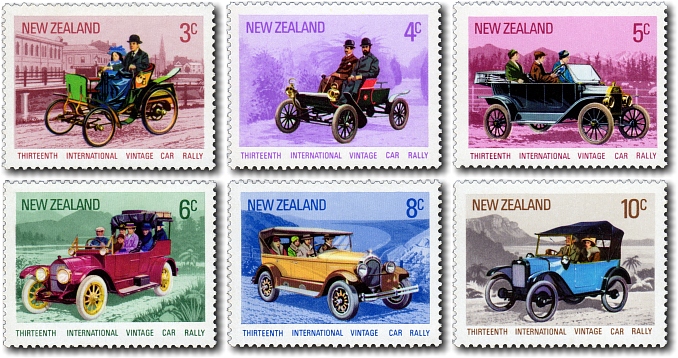 Cat.
Mint Unhinged
Fine Used
3c
1895 Benz / Christchurch Street and Cathedral
183a
$0.45
$0.45
4c
1904 Oldsmobile / Auckland Domain and One Tree Hill
183b
$0.45
$0.45
5c
1914 Model T Ford / Lumsden Rural Scene
183c
$0.45
$0.45
6c
1915 Cadillac Service Car / Buller Gorge
183d
$0.55
$0.55
8c
1924 Chrysler / Paekakariki Hill
183e
$0.90
$0.90
10c
1923 Austin 7 / Lake Waikaremoana
183f
$0.90
$0.90
Set of 6 individual stamps
183g
$3.50
$3.50
First Day Cover - 2 February 1972
183h
$4.50
... 3c (183a), 4c (183b), 5c (183c), 6c (183d), 8c (183e), 10c (183f)
This issue commemorates the 13th International Vintage Car Rally at Richmond, Nelson in February 1972.

The six stamps illustrate the development of imported motor cars with New Zealand street and rural scenes of the period and appropriate dress of the occupants.
If you have any questions or comments please contact us - we'd love to hear from you.
This page was last updated on 19 Sep 2021
All content and images copyright © 2008 - 2021 StampsNZ