2008 Beijing Olympic Games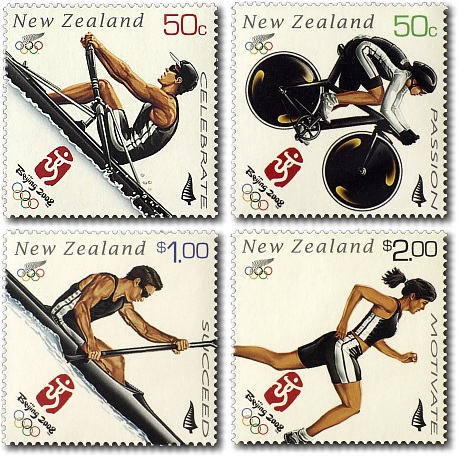 Cat.
Mint Unhinged
Fine Used
50c
Rowing / Celebrate
654a
$0.90
$0.90
50c
Cycling / Passion
654b
$0.90
$0.90
$1
Kayaking / Succeed
654c
$1.80
$1.80
$2
Athletics / Motivate
654d
$3.60
$3.60
Set of 4 individual stamps
654e
$6.85
$6.85
First Day Cover - 2 July 2008
654f
$8.10
… 50c (654a), 50c (654b), $1 (654c), $2 (654d)
The 2008 Summer Olympic Games (Games of the XXIX Olympiad) were held in Beijing, China, from August the 8th to the 24th. The 2008 Beijing Olympics marked the first occasion that either the Summer or Winter Games were hosted by China, making it the 22nd nation to do so.

New Zealand sent 182 competitors, making this our largest ever delegation to the Olympic Games to date. It was also one of the most successful, equalling New Zealand's combined medal tally from the previous two games. On the 16th of August New Zealand had its greatest single day at any Olympics - winning two gold, one silver and two bronze medals. New Zealand also gained its first Olympic track medal since 1976 when Nick Willis won the bronze medal in the Men's 1500 metres, becoming the sixth New Zealander to win an Olympic medal in that event. The success at the Olympics has boosted Athletics participation since then.

The 2008 Beijing Olympic Games stamps were designed in the same style as the 2008 Health issue.
Bibliography
The Postage Stamps of New Zealand Volume X
Edited by B.G. Vincent FRPSNZ
Published 2013 by The Royal Philatelic Society of New Zealand Incorporated (ISBN 978-0-9876534-3-7)
If you have any questions or comments please contact us - we'd love to hear from you.
This page was last updated on 30 Sep 2023
All content and images copyright © 2008 - 2023 StampsNZ