2008 Matariki / Maori New Year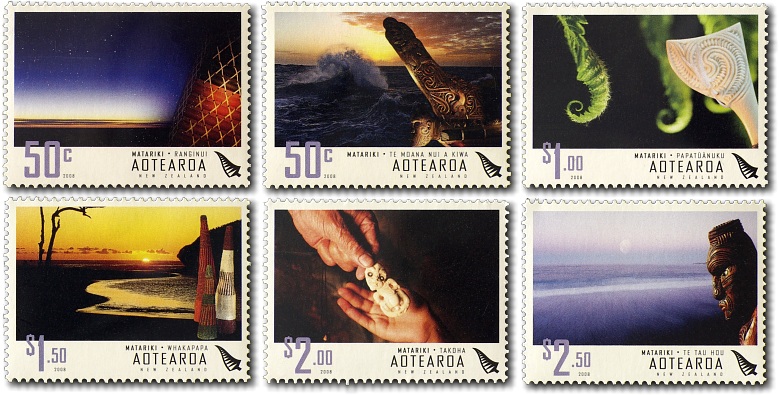 Cat.
Mint Unhinged
Fine Used
50c
Ranginui / The origin of the Earth and Heavens
653a
$0.90
$0.90
50c
Te Moana Nui a Kiwa / The Pacific Ocean
653b
$0.90
$0.90
$1
Papatuanuku / Food from the land
653c
$1.80
$1.80
$1.50
Whakapapa / Remembering our Ancestors
653d
$2.70
$2.70
$2
Takoha / Gifts as a pledge or token
653e
$3.60
$3.60
$2.50
Te Tau Hou / The New Year
653f
$4.50
$4.50
Set of 6
653g
$13.70
$13.70
$8
Miniature Sheet with two 50 cent, one $1, one $1.50, one $2 and one $2.50 stamp
653h
$14.40
$14.40
… Six Stamps : 50c (653a), 50c (653b), $1 (653c), $1.50 (653d), $2 (653e), $2.50 (653f)
(i) Limited Edition Imperforate Miniature Sheet (2,000 numbered copies)
653h1
$198.00
First Day Cover - 5 June 2008
653i
$14.45
… Six Stamps : 50c (653a), 50c (653b), $1 (653c), $1.50 (653d), $2 (653e), $2.50 (653f)
Miniature Sheet First Day Cover - 5 June 2008
653j
$14.45
… $8 (653h)
In the Maori language Matariki is the name of the Pleiades star cluster, which was important for agriculture in establishing the correct time to plant crops. The constellation is also believed to have been used by navigators.

The first rising of the Pleiades and of Rigel (Puanga in Maori) occurs just prior to sunrise in late May or early June, and this indicates that the old year has ended and the new year has begun.

The actual time for celebrating Matariki varies depending on the iwi (tribe). It has become common practice for various private and public institutions to celebrate Matariki over the period of a week or month anywhere from early June to late July.

In traditional times, Matariki was a season to celebrate and to prepare the ground for the coming year. It was also a good time to instruct young people in the lore of the land and the forest.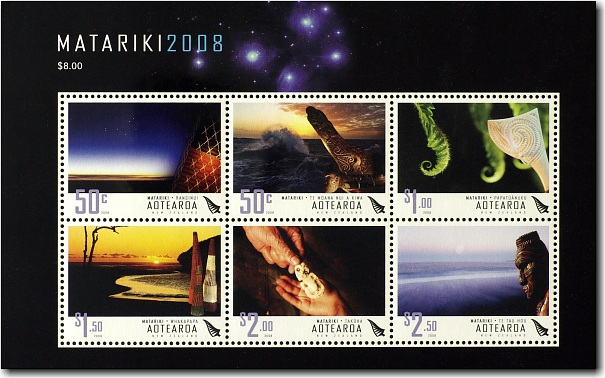 The 2008 WIPA08 - Vienna International Postage Stamp Exhibition miniature sheet also contained three stamps from this issue.
Bibliography
The Postage Stamps of New Zealand Volume X
Edited by B.G. Vincent FRPSNZ
Published 2013 by The Royal Philatelic Society of New Zealand Incorporated (ISBN 978-0-9876534-3-7)
If you have any questions or comments please contact us - we'd love to hear from you.
Wishing you a Merry Christmas and a Happy and Prosperous New Year
This page was last updated on 09 Dec 2023
All content and images copyright © 2008 - 2023 StampsNZ