2008 Health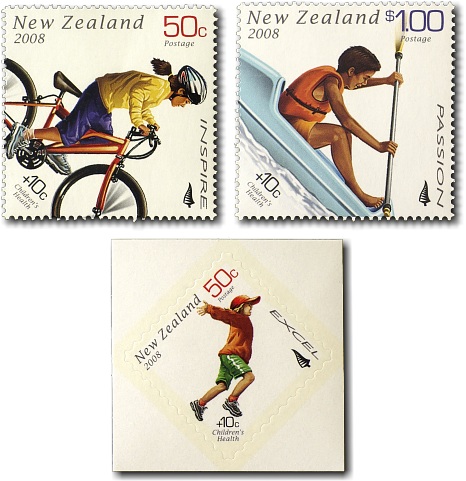 Cat.
Mint Unhinged
Fine Used
50c
Cycling / Inspire
655a
$1.10
$1.10
$1
Kayaking / Passion
655b
$2.00
$2.00
50c
Running / Excel (Self Adhesive)
655c
$1.10
$1.10
(i) Gummed from Miniature Sheet
655c1
$2.70
$2.70
Set of 3 individual stamps
655d
$4.00
$4.00
$2.30
Miniature Sheet with two 50 cent and one $1 stamps (Surcharged for health)
655e
$4.50
$4.50
… Three Stamps : 50c (655a), $1 (655b), 50c (655c1)
First Day Cover - 2 July 2008
655f
$5.40
… 50c (655a), $1 (655b), 50c (655c)
Miniature Sheet First Day Cover - 2 July 2008
655g
$5.40
… $2.30 (655e)
The 2008 health stamps were designed in the same style as the 2008 Beijing Olympic Games. The 50 cent self adhesive stamp is also available gummed from the miniature sheet.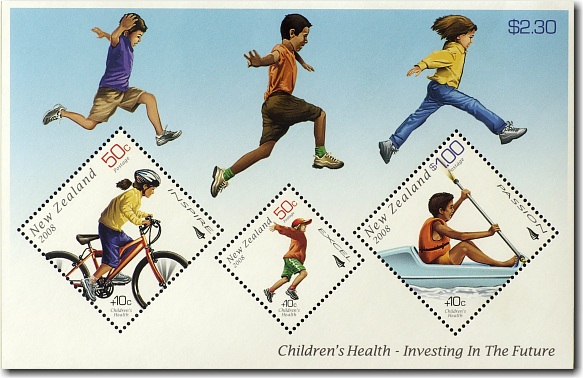 Bibliography
The Postage Stamps of New Zealand Volume X
Edited by B.G. Vincent FRPSNZ
Published 2013 by The Royal Philatelic Society of New Zealand Incorporated (ISBN 978-0-9876534-3-7)
If you have any questions or comments please contact us - we'd love to hear from you.
This page was last updated on 30 Sep 2023
All content and images copyright © 2008 - 2023 StampsNZ