Cat.
Mint Unhinged
Fine Used
80c
Smaug
779a
$1.45
$1.45
$1.40
Bilbo Baggins
779b
$2.50
$2.50
$2
Gandalf
779c
$3.60
$3.60
$2.10
Thranduil
779d
$3.80
$3.80
$2.50
Bard the Bowman
779e
$4.50
$4.50
$2.50
Bag End (with ground wood from the Hobbiton party tree)
779f
$4.50
$4.50
$3
Tauriel
779g
$5.40
$5.40
Set of 7 individual stamps
779h
$24.45
$24.45
80c
Smaug (Self Adhesive)
779i
$1.45
$1.45
$1.40
Bilbo Baggins (Self Adhesive)
779j
$2.50
$2.50
$2
Gandalf (Self Adhesive)
779k
$3.60
$3.60
$2.10
Thranduil (Self Adhesive)
779l
$3.80
$3.80
$2.50
Bard the Bowman (Self Adhesive)
779m
$4.50
$4.50
$3
Tauriel (Self Adhesive)
779n
$5.40
$5.40
Set of 6 individual stamps
779o
$20.20
$20.20
Self Adhesive Se-tenant Strip of one 80 cent, one $1.40, one $2, one $2.10, one $2.50 and one $3 stamp
779p
$21.25
$21.25
... Six Stamps : 80c (779i), $1.40 (779j), $2 (779k), $2.10 (779l), $2.50 (779m), $3 (779n)
Miniature Sheets Set of 7
779q
$32.05
$32.05
... 80c (779a), $1.40 (779b), $2 (779c), $2.10 (779d), $2.50 (779e), $2.50 (779f), $3 (779g)
$15.60
Self Adhesive Booklet of four 80 cent, two $1.40, one $2, one $2.10, one $2.50 and one $3 stamp
779r
$28.10
... Ten Stamps : 80c (779i x 4), $1.40 (779j x 2), $2 (779k), $2.10 (779l), $2.50 (779m), $3 (779n)
First Day Cover - 12 November 2014
779s
$26.65
... 80c (779a), $1.40 (779b), $2 (779c), $2.10 (779d), $2.50 (779e), $2.50 (779f), $3 (779g)
Self Adhesive First Day Cover - 12 November 2014
779t
$22.15
... 80c (779i), $1.40 (779j), $2 (779k), $2.10 (779l), $2.50 (779m), $3 (779n)
Miniature Sheets First Day Cover Set - 12 November 2014
779u
$38.35
... Miniature Sheet (779q)
New Zealand Post continued their tradition of issuing stamps to commemorate New Zealand filmmaker Sir Peter Jackson's fantasy epics. Previous Hobbit related issues are the
2012 The Hobbit - An Unexpected Journey
and
2013 The Hobbit - The Desolation of Smaug
issues,
2001 Lord Of The Rings - The Fellowship of the Ring
, the
2002 Northpex Exhibition 2002
commemorative miniature sheet, the
2002 The Lord of the Rings - The Two Towers
,
2003 The Lord of the Rings - The Return of the King
and
2004 The Lord of the Rings - Home of Middle Earth
issues, the
2004 World Stamp Championship Singapore Exhibition
commemorative miniature sheet and the
2005 King Kong
issue.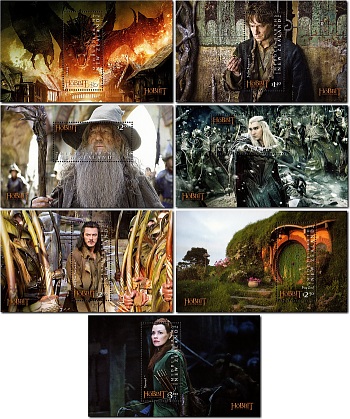 The door on the $2.50 Bag End stamp has ground wood affixed to it from the Hobbiton party tree which featured in Bilbo Baggins birthday party scene in the opening of the first Lord of the Rings film.
A set of seven miniature sheets were also issued showing each stamp in this issue in the context of the rest of the frame from the movie.