2014 The Hobbit Personalised Stamps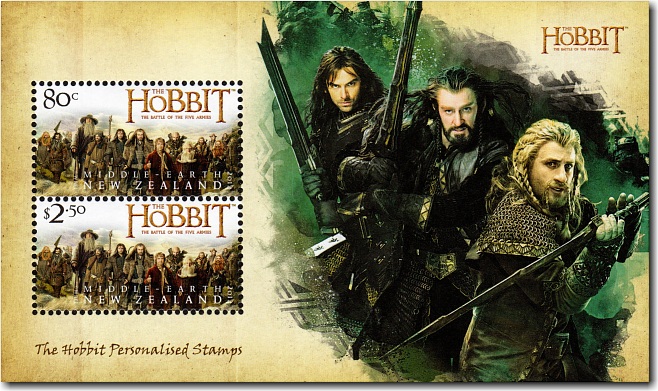 Cat.
Mint Unhinged
Fine Used
80c
The Hobbit Middle Earth New Zealand from Miniature Sheet
778a
$1.45
$1.45
$2.50
The Hobbit Middle Earth New Zealand from Miniature Sheet
778b
$4.50
$4.50
Set of 2
778c
$5.65
$5.65
$3.30
Miniature Sheet with one 80 cent and one $2.50 stamp
778d
$5.95
$5.95
… Two Stamps : 80c (778a), $2.50 (778b)
Miniature Sheet First Day Cover - 15 October 2014
778e
$6.85
… Two Stamps : 80c (778a), $2.50 (778b)
New Zealand Post issued this miniature sheet to mark the issue of Hobbit personalised stamps - stamps printed from a supplied photograph embedded behind the outline of a chosen Dwarf.

The miniature sheet and miniature sheet first day cover could not be personalised and were only available in mint condition. The stamps from the miniature sheet were not issued separately.
If you have any questions or comments please contact us - we'd love to hear from you.
Wishing you a Merry Christmas and a Happy and Prosperous New Year
This page was last updated on 09 Dec 2023
All content and images copyright © 2008 - 2023 StampsNZ