1903 Express Delivery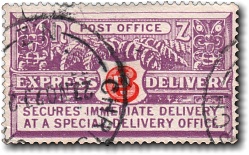 Cat.
Mint Unhinged
Mint Hinged
Fine Used
6d
Fern leaves
17a
$180.00
$117.00
$67.50
First Day Cover - 9 February 1903
17b
$2,160.00
… 6d (17a)
At the beginning of 1901, a delivery service by special messenger was established. Any mail using the service would be delivered by special messenger as soon as the item arrived in the destination office. The 6d fee covered by this stamp was in addition to the regular postage rate.

A special stamp based on an American design was issued in 1903 to promote the service which was not compulsory. However, fewer than ten thousand express deliveries were made per year and the initial print run lasted fr 23 years.
Bibliography
The Postage Stamps of New Zealand (Volume I)
Edited by R. J. G. Collins and H. T. M. Fathers B.A. B.Sc.
Published 1938 by The Philatelic Society of New Zealand Incorporated
If you have any questions or comments please contact us - we'd love to hear from you.
This page was last updated on 30 Sep 2023
All content and images copyright © 2008 - 2023 StampsNZ