Catalogue Reorganisation: On the 12th of January 2014, we published a major reorganisation of our catalogue codes to allow several missplaced issues to take their rightful place. At the same time we reorganised issues into a strictly chronological order based on the first day of issue. As a result almost all catalogue codes have changed. If you are using the spreadsheet files from our CD-ROM to organise your collection and you purchased your catalogue prior to the start of this year then you may find the following spreadsheets useful. This spreadsheet is a list of updated issue numbers for converting between the old and new issue codes and this spreadsheet is a list of updated catalogue codes for individual items.
This is our first catalogue reorganisation since we started in 2008 and while we can't say it will be our last, you have our word that the current codes will remain unchanged for several years.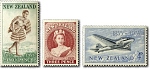 1955 Stamp Centenary
The stamps were issued on the 18th of July 1955 - 100 years to the day after the issue of New Zealand's first stamps.
Read more ...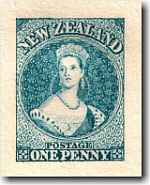 1855 Full Face Queen Victoria - Chalon - Not Perforated
Did you know that these stamps were first issued around the 18th to 20th of July 1855?
Read more ...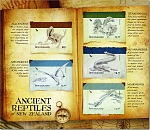 2010 Ancient Reptiles of New Zealand
Did you know that the stamps were also issued in self adhesive format in a miniature sheet as shown above and a Silver Bullion coin set?
Read more ...


StampsNZ are full time philatelic dealers specialising in stamps, miniature sheets, booklets, first day covers and varieties from New Zealand and Ross Dependency. We provide a personal and professional service and welcome any enquiries relating to New Zealand stamps.